Waveone Gold Files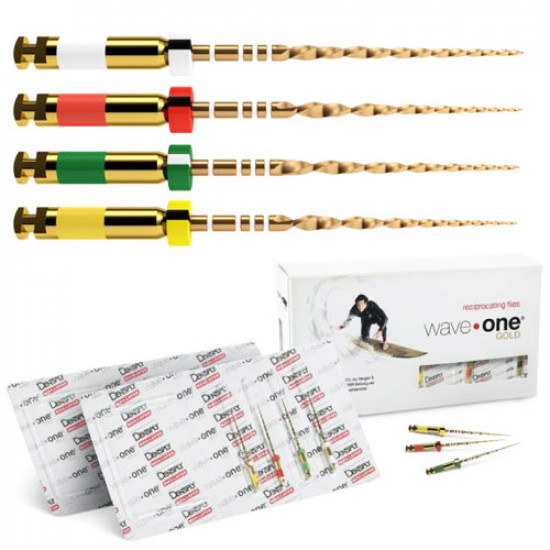 Custom Labels
Waveone Gold Files
"Increases patient safety,* while reducing shaping time across a wide range of cases**
Optimized with enhanced design features by leading endodontists
Part of a complete solution that includes obturation products designed to match the shapes created by WaveOne® Gold files
The WaveOne® Gold family now includes a single glide path file with reciprocating motion for simplicity from the start
The WaveOne® Gold Glider is only for use in reciprocating motion with compatible Dentsply Sirona motors. Helpful pre-programmed motor settings are available.
Reinforces patient safety
Primary WaveOne® Gold file is 50% more resistant to cyclic fatigue than WaveOne® Primary file
Reduced screwing effect** compared to standard rotary systems
Covers a wider* range of canal morphologies
Enhanced file flexibility thanks to the Gold technology
Extended size range (Small, Primary, Medium, Large)
Shortens the shaping timeTakes the cutting efficiency to a higher level
A single file per treatment also translates into time savings for canal shaping and irrigation"
Image
Package
Item No.
Price
Qty
Order
Waveone Gold Files( 25mm Medium)

3 Files of each

Rs.3,280.00

Rs.7,200.00

Waveone Gold Files( 21mm Large)

3 Files of each

Rs.3,280.00

Rs.7,200.00

Waveone Gold Files( 25mm Primary)

3 Files of each

Rs.3,280.00

Rs.7,200.00

Waveone Gold Files( 25mm Small)

3 Files of each

Rs.3,280.00

Rs.7,200.00

Waveone Gold Files( 25mm Large)

3 Files of each

Rs.3,280.00

Rs.7,200.00

Waveone Gold Files( 21mm Medium)

3 Files of each

Rs.3,280.00

Rs.7,200.00

Waveone Gold Files( 21mm Small)

3 Files of each

Rs.3,280.00

Rs.7,200.00

Waveone Gold Files( 21mm Primary)

3 Files of each

Rs.3,280.00

Rs.7,200.00